Today in History October 16, 1944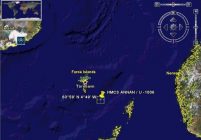 HMCS Annan (K404), River-class frigate, A/LCdr. Charles Patrick Balfry, RCNR, CO, and HMCS Loch Achanalt, a Loch-class frigate, LCdr. Richard W. Hart, RCNVR, CO, sank U-1006, OLtzS Horst Voigt, CO South West of the Faeroes, in position 60.59N, 004.49W. Annan gained a sonar contact and attacked with depth charges.
The contact was subsequently assessed as a whale and Annan rejoined her escort group. However, in fact it had been U-1006, which was badly damaged and forced to surface. Loch Achanalt subsequently detected U-1006 on radar, whereupon she and Annan were sent back to investigate. U-1006 fired a T-5 acoustic-homing torpedo, which was decoyed by Annan's CAAT gear and exploded harmlessly.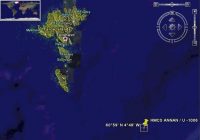 A gun duel ensued during which eight of Annan's crew was wounded. Annan attacked with depth charges on a shallow setting, which finally sank U-1006. From her crew of 50 men, there were 44 survivors, including the CO.
U-1006 was a medium-range Type VIIC submarine built by Blohm and Voss, at Hamburg. She was commissioned on 11 Jan 44. U-1006 conducted one operational patrol and did not sink or damage any ships. Horst Voigt was born in 1919, at Leipzig. He joined the navy in 1938.
His first operational service was as the commander of the 2nd R-boat Flotilla (until Sep 41) and then commander of the 6th R-boat flotilla until Nov 42. Next, he commanded the 2nd Artillery Lighter Flotilla until Mar 43 when he transferred to the U-boat force. After conversion training, Voigt was assigned to the 23rd U-boat Flotilla in Oct 43 for command training and on 11 Jan 44 was assigned to commission U-1006, at the age of 24. OLtzS
Voigt was captured when U-1006 was sunk on 16 Oct 44. There is no record of his being detained after the Capitulation. He did not sink of damage any ships.
In 2007 the role of Annan was called into question with the sinking may be attributed to HMCS Outremont