An alert radar watch:
HMCS ANNAN & LOCK ACHANALT sink U1006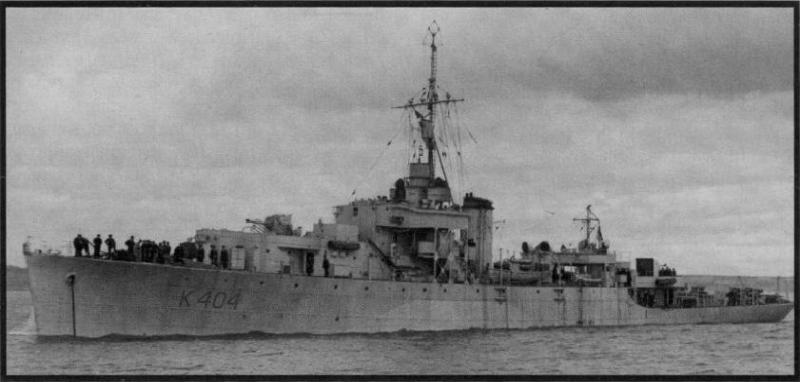 HMCS Annan, showing distinctive whaler davit fittings, in RN Rivers frigates, in particular the outboard brackets.
In September 1944, just before sinking U 1006.
While official records show that U 1006 was sunk by EG-6, those who participated, especially in HMCS Loch
Achanalt, differ quite markedly in their memories and records of what actions the two ships took and in which order
when compared with the official and semi-official descriptions available. Some deck logs have been lost, and
Admiralty assessment reports conflict with facts from the ship's logs that survive and reports of A/S actions. Annan
was acquired as one of seven River class frigates from the RN, as were three very slightly larger Loch class ships,
including Loch Achanalt. These transfers were a result of an agreement reached in Quebec in 1943 whereby the
RCN would take over and man ten British-built ships of these classes. Annan joined EG-6 in August and Loch
Achanalt in September, 1944, working out of Londonderry as a support and hunting group. Annan was commanded
by LCdr C.P. Balfry, RCNR who was to be her only CO while with the RCN, and Loch Achanalt by A/LCdr R.W. Hart,
RCNVR.
On 16 October the group, commanded by the well-known ex-CBC broadcaster A/Cdr W.E.S. (Ted) Briggs, DSC,
RCNR in New Waterford, was patrolling west of the Shetlands, hunting for U-boats departing Norwegian bases.
They had left Skaalefjord, Faeroes, on 14 October and were steaming at eleven knots in line abreast at 4,000 yard
intervals, a bit more than usual due to excellent asdic conditions. The weather was clear with calm seas and only a
slight swell. The ships had detected several HF/DF transmissions during the afternoon and at 1858 Annan had
dropped a pattern of depth charges on what seemed at first to be a good submarine contact, but which turned
"woolly" after her attack. No further contact was obtained despite a long search by Annan and Loch Achanalt,
assigned to prosecute the possible U-boat.
Just as they reached the group, at 1906, Annan's surface warning radar operator, AB Fred Davies, reported a small
contact astern at about three miles, as did Loch Achanalt's operator. These reports were transmitted to the senior
officer who ordered them to investigate their contact. Both ships swung about, sounding action stations, Annan
near-missing her senior officer in New Waterford as she reversed course in the dark. The two closed in on a steadily
improving echo, soon assessed as a surfaced submarine moving away at maximum speed and zigzagging sharply.
Annan, working up to her maximum speed, headed directly for her target, closed to within 2,700 yards and fired
2-inch illuminating rockets from rails affixed to her 4-inch gun shield at 1912, revealing a submarine almost beam on.
LCdr Richard Hart in Loch Achanalt, to the distress of his gunnery officer Lt J.A.P. Clark, followed normal tactical
procedure established to avoid possible GNAT counter-attacks. This involved advancing in a series of course
alterations devised to "step aside" from torpedo attacks while the ship streamed her Foxer gear, thus somewhat
delaying her arrival on the scene.
 HMCS loch Achanalt in RCN hands in August, 1944, fitted with the much heavier mast than the River Class.
A Type VIIC U-Boat of U 1006's class. In this case U 96 entering a French Biscay harbour.
U 1006 had been the U-boat detected in the afternoon's abortive depth charge attack and suffered damage in the
hydroplanes and torpedo firing mechanism. She had been forced to surface, hoping to slip away unnoticed in the
dark. When Annan and then Loch Achanalt opened fire with their 4-inch guns, U 1006 responded sharply with her
short range weapons, and not unsuccessfully. Fortunately the U-boat's 37mm gun had also been damaged in the
late afternoon attack. Eight of Annan's crew were wounded by the U-boat's gunfire over the next few minutes and
Loch Achanalt also had several rounds fired at her as she joined Annan. The rounds fortunately passed through her
rigging, to the discomfiture of Seaman Bob Watkins in the crow's nest above. In true Hollywood fashion, a bridge
signalman in Annan at one stage grabbed his head and cried out "They got me!" He was taken to the sick bay, a
head laceration dressed and he returned to work.
By the time Annan had closed to eight hundred yards her radar and asdic were knocked out by damaged wiring, she
had no signal projectors, and several men had been wounded. She closed further, firing continuously with her 4-inch
and midships Oerlikons, hitting the U-boat frequently, and maintaining continuous illumination with the 2-inch rockets.
Eighteen minutes after opening fire Annan ran close alongside her target and fired two shallow-set depth charges
from the starboard throwers, one of which even landed on the enemy's deck and rolled off, exploding just below the
V-boat as Annan sped out of harm's way. She had fired fifty-four 4-inch rounds.
Although LCdr Hart in Loch Achanalt had planned to ram the U-boat, he sheered away as Annan passed close to
the U-boat to drop the charges. Even so, her guns had been firing continuously as well. In fact one Oerlikon gunner
had to be pushed off his weapon by the gunnery officer to cause him to cease firing at the now-foundering U-boat.
The U-boat began to settle, her hatches opened and men were seen to be jumping into the sea. In two minutes, U
1006 sank on an even keel at 1932 as other frigates of the group arrived, New Waterford and Outremont firing
illuminating star shell over the scene and Outremont even getting away several 4-inch rounds that passed close over
Loch Achanalt. These two then dropped their whalers at 2038 to join those of the attacking ships and help in the
rescue of the forty-six survivors, including three officers. Outremont recovered twenty-four including the U-boat's CO,
OL Horst Voigt. The enemy were by no means yet accepting utter defeat, for one officer was described by Lt Joe
Clark of Loch Achanalt as "…a snooty bugger. We tried to treat him properly but he was just a horse's ass." Loch
Achanalt picked up twenty and Annan two. Surg Lt Dick Galpin, RCNVR, in New Waterford, operated for many hours
on the German survivors transferred from other ships with leg and abdominal wounds. One was the CO, who gave
him his monocle as a souvenir, which Dick still wears. An Annan officer, on having some shell fragments removed
from his arms and legs, handed them to a U 1006 survivor commenting "You can have these back!" Two PMOs in
the group, Surgeon Lieutenants R.M. MacDonald of Loch Achanalt and J.L. Fitzgerald of Annan undertook a serious
three-hour operation on Lt David Howitt, Annan's gunnery officer, wounded in the abdomen, as a result of which a
kidney was removed. An RN W/T operator was blinded in one eye by a 20mm fragment. All the wounded, both
Canadians and those that were picked up, survived. The prisoner survivors were landed in Greenock the next day.
LCdr Balfry of Annan received a DSC in March, 1945, "For services in destroying enemy submarines", implying he
had been involved with other cases before, although these are not identified. Lt Howitt also received a DSC with the
same citation. No awards have been identified for Loch Achanalt's part; certainly her CO received none and his ship
is often omitted from credits for U 1006's destruction. Annan survived the war, was returned to the RN, and in
November 1945 was transferred to the Danish Navy, and renamed Niels Ebbesen, being scrapped in 1963 at
Odense, Denmark. Loch Achanalt was sold by Britain to the New Zealand Navy as HMNZS Pukaki, being broken up
in Hong Kong in 1966.
SOURCES: 
– Clark: HMCS Loch Achanalt, pp. 32-46
– German: The Sea Is At Our Gates, pp. 177-8
Herzog: Deutsche U-Boote, p. 284
Lawrence, Tales of the North Atlantic pp. 244-246
Lenton: German Submarines, Vols, 1 & 2 pp. 51 & 50
Macpherson: Frigates of the RCN, pp. 91-92
Rohwer: Axis Submarine Successes, p. 186
Schull: Far Distant Ships, pp. 381-2